More Parenting Articles
Recipe: Christmas Crispy Candy Cane Treats
The holidays are the perfect time to bring the whole family together in the kitchen to make food that can be shared. This candy cane crispy treat recipe is quick, easy, fun and makes the perfect little food gift for last minute visitors during the busy season.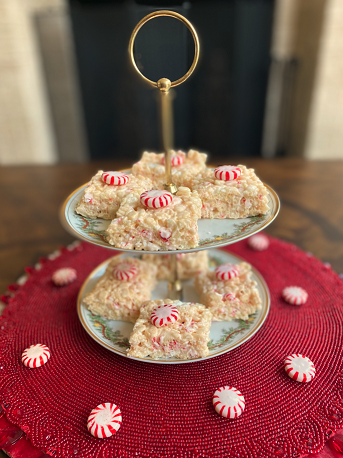 Ingredients
¼ cup butter/margarine
1 bag (10 oz) of large marshmallows or 4 cups of mini marshmallows
1 tsp. vanilla extract
½ cup crush candy canes; 1 tbsp for garnish topping
6 cups crispy rice cereal
Parchment paper or tin foil to line baking dish
Directions
Line baking dish with parchment paper or lightly greased tin foil
Melt butter/margarine over low heat
Mix in marshmallows and vanilla, stirring with a wooden spoon until melted and combined
Mix in crushed candy canes into melted marshmallow mixture
Mix crispy rice cereal into marshmallow mixture until all the cereal is covered
Gently pour cereal mix into prepared dish
Top with 1 tbsp of crushed candy cane as a garnish and let cool
Cut and enjoy
 Some fun tips:
While the mix still warm, you can shape the crispy mix into the candy cane shapes and decorate by wrapping in red liquorice to create a candy stripe effect
Put crispy treat squares into individual clear bags tied with festive ribbon and adorned with a mini candy cane. Share with family and friends over the holidays.
Capri Cafaro is a cook and author. Head to her Instagram for more details and recipes