Read More News
Can you Walk to the Moon?
'Love Exploring' challenges families to get outdoors this summer
As more of us are choosing to holiday in the UK this summer, an educational app has set a fun and free challenge for families and kids of all ages to enjoy the outdoors in a bid to walk the distance to the moon.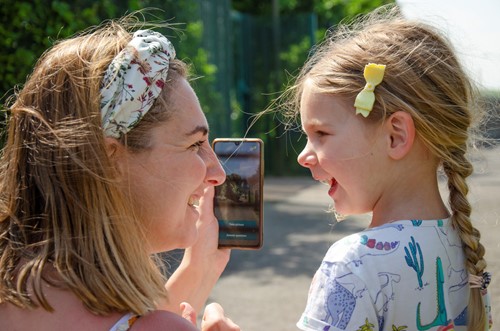 Photo: Rosie and Darcie, credit: Love Exploring
Love Exploring is a free to download app that allows users to choose a dinosaur safari, space walk or guided trail in their local park or town. It uses clever augmented reality technology to bring the dinosaurs and planets to life and also tests users on their knowledge with fun quizzes.
Last year over 40,000 users of the Love Exploring app walked the equivalent of 2.5 times around planet Earth! That's 62,252 miles in total. This year, the team behind the app have set an ambitious challenge to beat last year's total. They believe with the increase in families staying in the UK that together they can walk the distance to the moon, a whopping 252,088 miles!
There are over 50 locations across England the app will show activities for and as it recognises your location, it's ideal if you've driven to a campsite or even the coast for your staycation. You'll be able to see the nearest trail, walk or safari and learn more about the area you are visiting.
Love Exploring founder, Tom Matthews, comments: "Parents of young children know that going for walks and getting fresh air has always been important, especially to burn off excess energy. But it's easy to stick to the same routes and locations. Our app helps give some inspiration on new walks to take, but also makes it fun for both kids and adults. When you're hunting Dinosaurs, you're not worried about your legs getting tired! We've every faith our app users will smash our walk to the moon challenge and can't wait to see the photos of lots of families having fun this summer."
Rosie and her four year old daughter Darcie (pictured) use the Love Exploring app for their day trips. Rosie comments: " Darcie absolutely loves discovering the walks and trails in our local area, and last summer we went on a day trip to Scarborough and chose a guided trail around the town. It adds a little bit of learning into a normal day out, and Darcie doesn't even notice as we're having so much fun with it. We can't wait to contribute our steps to the walk to the moon challenge, as getting outside is so beneficial to our wellbeing. I think it's important to teach kids this from an early age."
How can you get involved?
Download the free Love Exploring App
Choose a location close to you and then a Dinosaur Safari, Space Walk or Guided Trial near you or your UK holiday destination
The distance you cover will be tracked on the Love Exploring App and used towards the challenge total
Use your phone or a fitness tracker to monitor your own steps and share your numbers along with a photo of your family having fun using this hashtag: #WalkToTheMoon tagging @LoveExploringHQ on Twitter or sharing to the Love Exploring Facebook page
The app is free to use, but the system uses Augmented Reality and so unfortunately it won't work on all mobile phones. Check out your App Store for details by searching for the Love Exploring app on Google's Play store or the Apple App Store and then check out the compatibility guide.
YouTube videos of Dino Safari in action
Video of Scarborough guided Trail
For more information, visit Love Exploring